FOOD FOR THOUGHT …
HOW is it that we continue to import people when …
-much of the country is in the grip of drought?
–record high temperatures have stressed our agricultural yields, in many cases to their lowest in over a decade?
SMH Photo: Braidwood farmers Mark and Sonia Horan.CREDIT:KARLEEN MINNEY 
They have water in only three of their 23 dams.CREDIT:
NSW, which has had its warmest January-July 2018, posted its fourth-warmest July alone, as did Queensland. Even Victoria, buffeted by more cold fronts, posted its sixth-warmest July.  The bureau's August-October outlook points to below-average rainfall for most of eastern Australia and warmer-than-normal temperatures as unfavourable climate influences from the Indian Ocean tighten the atmospheric tap that normally streams moisture across the continent at this time of year. … And the impact of resulting heatwaves is typically multiplied, knocking as much as 10 per cent off the yield of cereal crops – assuming farmers have enough moisture and funds to plant in the first place, he says.
–our potable (drinking) water supply is struggling to maintain adequate reserves with expensive desalination having commenced in Sydney, and restrictions being contemplated?
ABC Photo:  The Desalination Plant Sydney; it should take 3 to 4 months for drinking water to be ready. (Supplied:  Sydney Desalination Plant)
Photo:  November 2018 Sydney:  Warragamba Dam was at 64.9%
–our road and rail systems are not coping despite massive infrastructure spends?
ABC Photo:  People packed in at Strathfield Station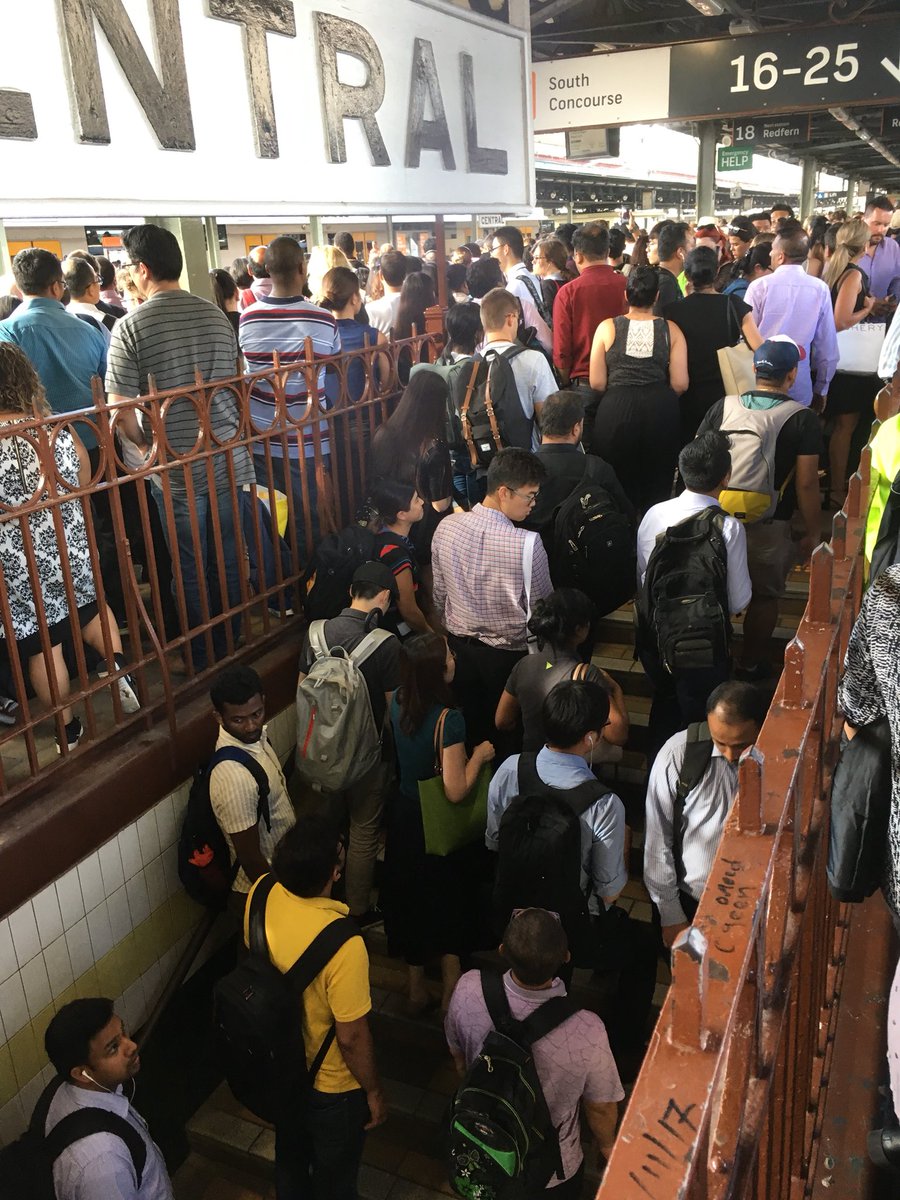 Crikey Photo:  Sydney train serviced described as a "shitshow" and commuters are pee'd awf.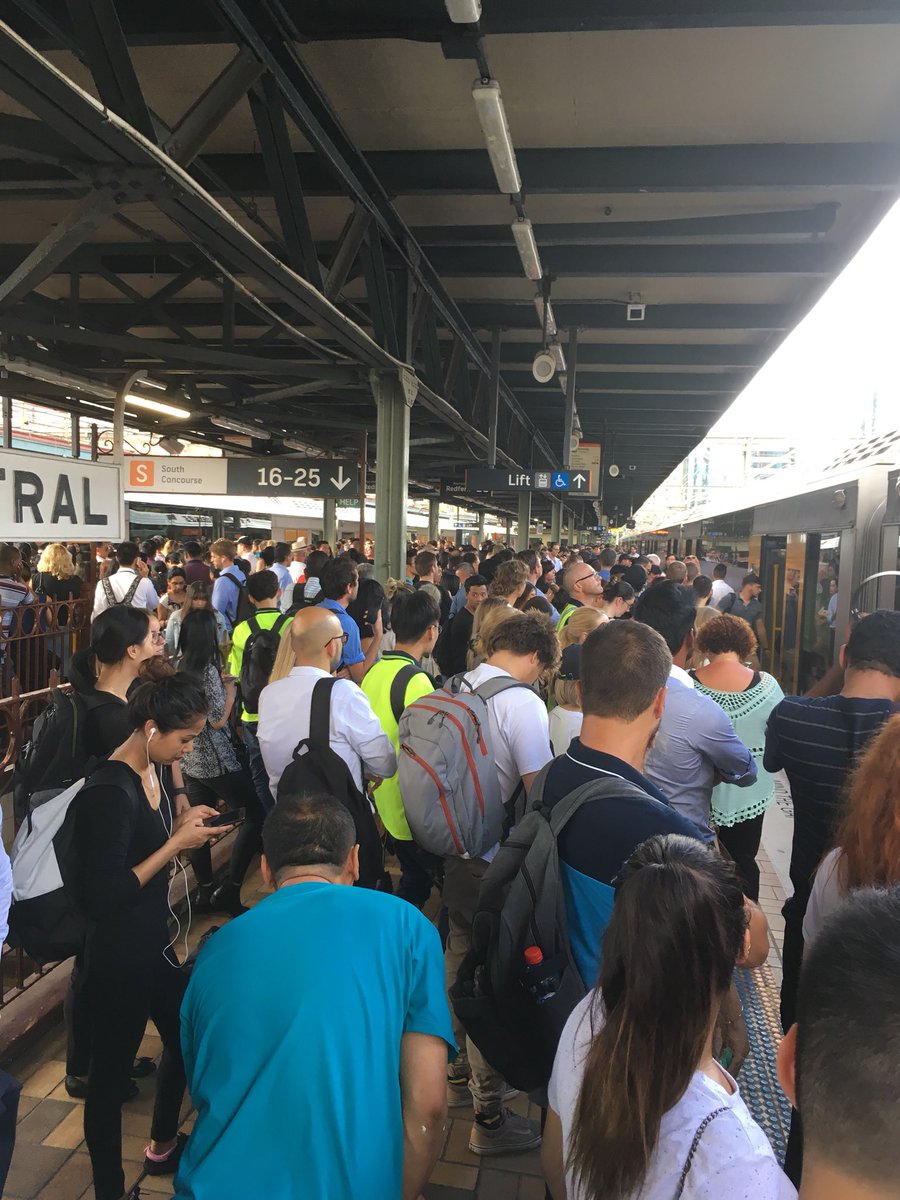 Photo:  The Sydney rail train crush after commuters manage to get onto a train
SHM Photo:  WESTCONNEX has faced stiff opposition from residents in Sydney's inner west.CREDIT:STEVEN SIEWERT
WESTCONNEX has annihilated the Inner West and is progressing with its destructive tentacles across Sydney to the Royal National Park in the South and to Sydney's Northern Beaches!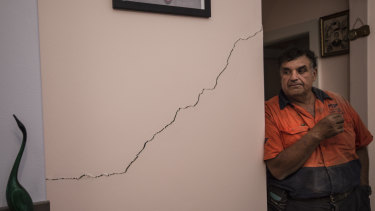 SMH Photo:  Umberto Galasso pictured with a crack he says opened up or widened after excavation works for WestConnex beneath his North Strathfield home. CREDIT:WOLTER PEETERS
-'catch-up' is an acceptable strategy – when clearly it is not, and has a huge impact on
.productivity
.public health
.fails to achieve its aims as demand overtakes so-called solutions
AND …
-extreme weather events like wide-spread flooding and fires wreak havoc over vast areas
The Mercury Photo:  Smoke is choking communities across Hobart; Main street of Geeveston under heavy smoke early this morning (3 Feb. 2019) Picture: NIKKI DAVIS-JONES
Spotfire on Arve Road near Geeveston. Picture: NIKKI DAVIS-JONES
VIEW for more about the Tasmanian fires:  https://www.abc.net.au/news/2019-02-03/tasmanians-prepare-for-severe-fire-dangers-on-sunday/10774452
ABC Photo:  Floodwaters surrounding some homes in Gumlow, Townsville (Supplied:  Meridian Helicopters)
ABC Photo:  Residents of a house had to evacuate as part of a hill gave way!
Causing damage to a retaining wall and a unit complex!  Townsville
VIEW Photo gallery:  https://www.abc.net.au/news/2019-02-03/townsville-flooding-catastrophe-ingham-heavy-rain/10774312
CERTAINLY …
 
A clear and present danger that so many are blind to is the reality we inhabit one of the driest places on earth yet SOME maintain a belief system:
-that this place can be exploited forever
-that somehow our resources are infinite
Photo:  The Herald:  Fears over the ag production space east of the Sandstone Curtain are long-held, and will surely build as Sydney grows from 4.9 million to 8 million people by 2050 as expected.
-that science will solve everything
VIEW:  For why this isn't so!  https://caanhousinginequalitywithaussieslockedout.wordpress.com/2018/09/15/a-farmer-in-reply-to-sir-frank-on-a-big-australia/?fbclid=IwAR0vfXD6E2Ukep1rZcttxqbEI3fcl9gOMmGYTRbAqPergJWCW6EIjW60U5E
-that the growth economic model will go forever
 A Google Earth shot of Menangle village with the trees, backyards and lifestyle you would expect 70km from Sydney – with a shot of the new estates.
-that trickle-down economics works for all
View:  Why Homelessness is getting Worse:  https://caanhousinginequalitywithaussieslockedout.wordpress.com/2018/05/26/why-homelessness-is-getting-worse-by-the-unconventional-economist/
-that the market knows what works
-that there are places on this earth that endure harsher conditions so what we do here is okay
ABC Photo:  Farmers fighting the drought!
SMH Photo:  Farmers have a diminishing supply of fodder to sustain stock.CREDIT: NICK MOIR
ABC Photo:  Skinny cow; August 2018; a quarter of NSW was in intense drought; DPI figures: ABC News:  Luke Wong
ABC Photo:  August 2018:   NSW farmers are paying hefty sums for fodder to be trucked in from as far as SA and Victoria.
-that future proofing, doing the planning and building ahead of demand is too difficult; instead of the current model of merely repeating the past and playing catch-up 
The list goes on!
CAAN FACEBOOK:
https://www.facebook.com/Community-Action-Alliance-for-NSW-744190798994541/?ref=aymt_homepage_panel
WEBSITE:
https://caanhousinginequalitywithaussieslockedout.wordpress.com/